A Small World Cup
01/2023
New Special Version only on Poki!!!!!
Added 7 different team competitions (World Cup Classic, World Cup 2022, Euro Cup, America Cup, Euro Clubs, Italian Clubs, English Clubs)
New Quatar 2022 World Cup Version available only on Poki!!!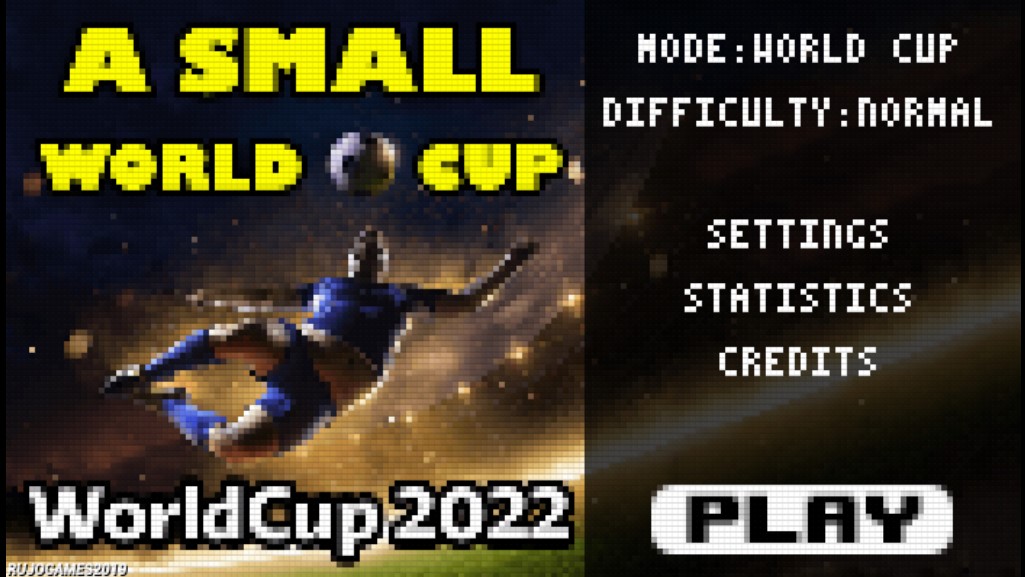 (Download Google Play App HERE)

leave comment or reach me on twitter (@marcobandolo) for any question

if you enjoy the game you can buy me a coffe!
20/11
New Version!!!!!
Added special "poki" version (click here) with some exclusive gameplay features and better mobile play compatibility
07/09

New Version! (Refresh the page! F5)
Less Ads!! No more banners ads slowing down the game!
Loss time!! Matches will now end somewhen between 90°-95°
Vibrate option!! New great control feeling on mobile devices! [mobile only]
Share your statistics with your friends!! and brag about it!! [mobile only]
Share your cups winning screen and show the world your amazingness!!! [mobile only]
4 More stadiums! Now each nation has its custom stadium!
28/08

New Version!

New mode: Golden Goal! Play a super fast version of the World Cup, first goal wins!
New mode: Practice! Play alone to train your skills and become a world champion!
Match duration setting! Choose between 45 or 90 seconds long matches
Difficulty setting! Try easy, normal and hard!
Game statistics! Save forever your Word Cup mode efforts!
More stadiums!
Pause game! Now you can freeze the game and take a look at the sky for a moment!
New musics/sounds!
New funny match presentation screen!
Various fixes! Because yes!
22/08

New Version!!!
- Optimized ads (less annoying!) [app only]
- New World Cup system!
- 14 great national teams to choose from!
- Random match draws every game for unique experiences!
- History of previous results during the World Cup!
- 5 different stadiums!
- Cool new graphics and fonts!
- All new sounds and background music! (+ mute sound option:)
- A brand new winning screen!
- New (longer!) match duration (40 seconds effective play)
Coming soon:
- Local multiplayer mode!
- Training mode!
- Difficulty settings!
- Fun accessories for your player! (IAP)
- Ads free option ($)
- Matches history/statistics!
- More stadiums!
- Goal replay view/share!!!
- iOS app
remember to update your Android App!! (link)
12/08

- Official Android version released!
Most of the new upcomnig features will be included in the app only, download it now!
(iOS version coming soon)
- various fixes

10/08
- new "direct" inverted control (choose in title screen)
08/08
- Fixed sound
- Improved IA
07/08
- Various graphics improvements
- Fixed end-game bug playing with Brazil
- New increasing difficulty system
- In-game random generated sounds
- Now players cant stay still inside their goals
- Better kick-off ball random direction
...still working on other improvements!
A completely new version of this is in the making, stay in touch!
this game was my entry for ludum dare #38 compo theme "A Small World" made in 2 days using Construct2
LD page here: https://ldjam.com/events/ludum-dare/38/a-small-wor...